Event Detail
Back to Events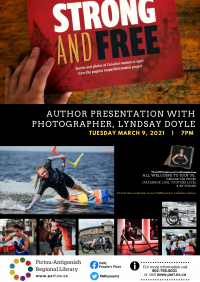 Library :: Discussion
Author presentation with photographer, Lyndsay Doyle (online)
7:00 PM
Online
Description:

Author presentation with photographer, Lyndsay Doyle (online), "Strong and Free, stories and photos of Canadian women in sport", 7-8 p.m. All are welcome to join us this evening, in celebration of International Women's' Day for a virtual author presentation of "Strong and Free. Stories and photos of Canadian women in sport from the popular #superROLEmodels project" with Halifax-based photographer, and athlete - Lyndsay Doyle. To join us via ZOOM: https://us02web.zoom.us/j/82930730643?pwd=eVlrR0ZESXhuanRHYzRaeEF3Tmk4Zz09
Passcode: 570650 or by phone - please dial, 1(800) 974-5902, and then enter the Conference ID, 6217271.
About the book: "Adolescent girls are dropping out of sports at an alarming rate, despite having more opportunities than ever before. More than that, mainstream media coverage of women's sports has declined over the last twenty years, and currently accounts for less than 5% of that total. Is it possible that there's a connection between these two dispiriting statistics? Is it possible that young girls would have a better chance of staying in sports if they could actually see the older equivalent of themselves more often? With 'Strong and Free,' Lyndsay Doyle believes we have the power to change their lifestyle trajectories through photographs. Here is inspiration for Canadian female athletes, coaches, and officials in one collection, assembled in the hopes of expanding media coverage of female sports and encouraging young girls to enroll and stay involved. These photographs capture sporting women in all walks of life - all ages, all body types, from beginners to Olympians. These women share common traits that often transcend sports: determination, perseverance, dedication, patience, and responsibility for showing young girls how sport can benefit them. 'Strong and Free' gives these incredible role models for young girls a powerful voice. Our girls are watching us. Our nieces, cousins, sisters, neighbors, daughters. If we don't show them what they're capable of, who will?"

Age Group: All Ages

Address: n/a n/a
Phone: N/A